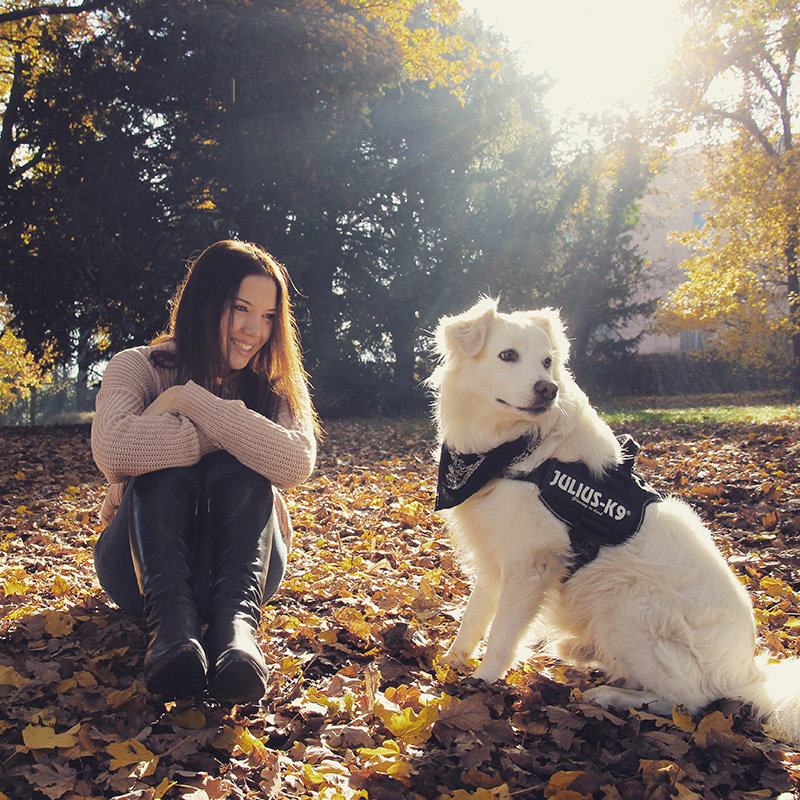 Benvenuti a Travelling with Valentina!
Sono Valentina Grossi, una studentessa dell'Università Ca' Foscari di Venezia e un'instancabile viaggiatrice.
Finalmente sono riuscita ad aprire il mio blog, in cui vi parlerò di una delle mie più grandi passioni: viaggiare. In questo blog non troverete soltanto recensioni di viaggi che ho fatto negli ultimi anni, arricchite da fotografie – un'altra mia grande passione è proprio la fotografia – ma anche posts in cui vi racconterò un po' di me. Nella categoria lifestyle, infatti, troverete articoli in cui vi parlerò dei miei interessi, del mio tempo libero e di come mi sbizzarrisco in cucina, cercando di riprodurre alcuni piatti tipici di ogni paese che visito.
Come vedete nella foto, amo gli animali, in modo particolare i cani (qui sono con Leo); mi piace molto la natura e ho un debole per i tacchi alti.
A very warm welcome to Travelling with Valentina!
I am Valentina Grossi, a Masters Candidate Ca' Foscari University of Venice and a tireless traveller.
At last I have opened a blog to tell you about one of my greatest passions: travelling.
Here you can find not only reviews about my trips, enriched with my own photography – photography is another of my passions – but also posts where I will tell you a little bit about myself. In fact, in the category lifestyle, you can find articles about my hobbies, what I do in my free time, and how I try to reproduce some dishes that I've tasted around the world.
As you can see in the picture, I love animals, first of all dogs (here with Leo); I really like nature, and I have a weakness for high heels.
¡Bienvenidos a Travelling with Valentina!
Soy Valentina Grossi, una estudiante de la Universidad Ca' Foscari de Venecia y una viajera incansable.
Por fin he abierto mi blog, donde os hablaré de una de mis grandes pasiones: viajar. En este blog no sólo encontraréis experiencias de mis últimos viajes, enriquecidas con fotografías – otra de mis pasiones es la fotografía – sino también posts en los que os contaré un poco de mi. De hecho, en la categoría lifestyle, encontraréis artículos donde os hablo de mis aficiones, de mi tiempo libre y de cómo intento reproducir unos platos típicos de los países que visito.
Como se puede ver en la foto, me encantan los animales, sobre todo los perros (aquí estoy con mi perro Leo); me gusta mucho la naturaleza y estoy enamorada de los tacones.